Start of my Summer season
So with snowboarding well an truly out until next November/December, time for me to shift into 'SUMMER-MODE'. So, strutting around in t-shirts, salads for dinner and footy!!
The
Summer ALT Footy Tournament in Nagano
takes place in three weeks so I need to get back in training. I've been playign with Kawaji FC recently, but maybe the first proper footy tournament for me happened yesterday with
The 2nd Niigata Futsal International Cup
(the
Japanese version
shows photos of last years winners).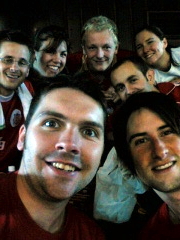 Colin had organised a team (the 'Kung-Fu Badgers' or 'KFB') and and he let me join in at late notice (cheers Col!). And with Liverpool supporters Luke and Simon on the team, we wore red as our team colours.
We had four matches to play in the group stage. If we came in the top three, we would qualify for teh knockout round. We were enthusiastic and gave our best in each match. Unfortunately, playing for the first time together against teams with matching uniforms and nicknames on their shirts (i.e. established, serious and organised) meant we came away from the first three matches without a win. We went into the final game knowing we couldn't qualify and aiming to just have a bit of fun. Lucky for us, the other team had the same idea and we had a great final match, notching up four goals and winning! We all came away with a participation certifcate, a share of rice crackers and a big smile from a fun footy tourny.
So now I'm in Soccer-mode and ready to run and get fit for Nagano. And if I need a bit of encouragement, there's
this short video from last October's tourney
.