My friend, the artist…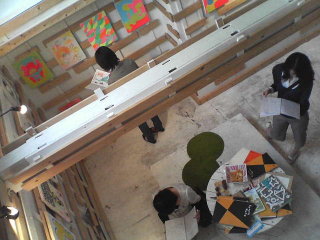 I got a text message from Junichi (snowboarder mate) during the week asking if I'd like to come see
Takashi's Exhibition
in Niigata City on Sunday. I met
Takashi
at the Takada hanami after I'd polished off my beer and started on the wine. As such, I know very little about him, less so that he's an artist and has an exhibition.
Anyways, since I was in Niigata City, I agreed to come along. Akira referred me to PAS magazine to see a write up of Takashi's work and directions to the gallery (and I was checking the magazine in Lawsons after the FA Cup when I bumped into Justine and the girls after Pete's Party. Random!)
Keiko and I met up with Junichi and Akira on Sunday afternoon and, after buying congratulation flowers, we headed to the N7 gallery. We got there just in time as Takashi was just leaving. Somehow I ended up with the flowers and had to present them to him! Embarrasing as I didn't know what to say apart from "Omedetou" (congratulations) and "Otsukarisama" (thanks for all your efforts). The N7 gallery is a little place a short walk from the With Building. It's a small space that's been decked out for exhibitions of independent artists. Inside, canvas works by Takashi were on the walls and there were tables and tables of his sketch books. He explained a little and invited us to look through his work and leave a message in the guestbook at the end. We started looking around his works and through his sketch books. It's the first time I've been able to see how someone else works and see how an artist will put all their ideas, no matter how insignificant, onto paper. And it was interesting to see how Takashi's style had developed of the years; from detailed drawings back in 2000, to quick rough sketches and line drawings more recently. Allsorts of subjects in allsorts of mediums all drawn in these sketch books. Sometimes there would be the odd manga strip recollecting times spent with Junichi and Akira.
I'd immersed myself so much that I couldn't believe an hour had passed when I looked at the clock! It was about time for me to leave to drive back to Tokamachi, so I signed the guestbook with my own little sketch and said goodbye. On the way back to the car, I had the urge to draw anything. Keiko and I went for coffee and was doodling away in my notebook. So, one the way home I stopped at a shop and bought a sketchbook just like Takashi's. By the I got home I had lots of ideas so I set to sketching and doodling. I had alook at them this morning and liked what I saw so I'll do the same tonight.
Thanks for the inspiration,
Takashi
!